Qatar is a peninsula of 11,586 square kilometres located on the Southern shore of the Persian Gulf, neighbouring Saudi Arabia in the South (87 km) and near the United Arab Emirates in the South-East.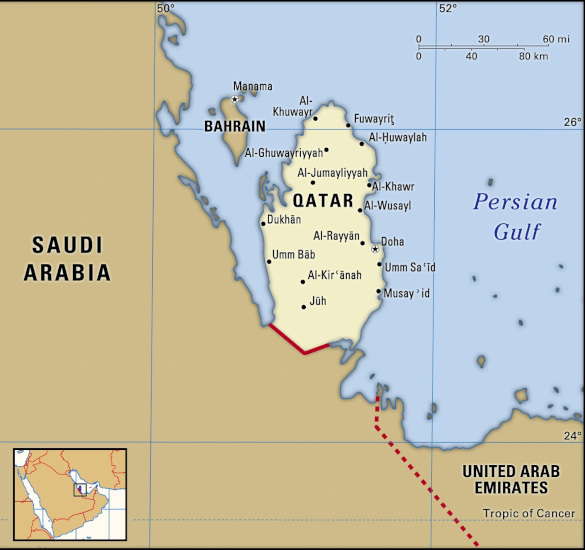 Qatar
Official name: State of Qatar
Area: 11,586 square kilometers
Population: 2,832,067 inhabitants (2019) – Qataris
Capital: Doha (or Al Dawha)
Main cities: Al Wakrah, Al Khawr, Al-Rayyan, Umm Salal
Situation
Qatar is a peninsula of 11,586 square kilometres located on the South shore of the Persian Gulf. It is centrally placed among the GCC countries. The country is bordered by Saudi Arabia to the South and by the Bahraïn Gulf to the West. The « Khor Al Adaid » inner sea is in the South-East of the peninsula.
Qatar is 160 km in length and 80 km at its widest point. Before the discovery of oil, fishing and pearling were the main sources of the country's wealth for ages thanks to its continuous coastline which extends for 563 km.
The land is mostly flat and rocky, covered with sand dunes except for a range of low-rising limestone outcroppings along the Western and Northwestern coasts.
Climate
Qatar has a moderate desert climate with hot, humid summers (temperature may vary from 40°C to 50°C) and mild winters (temperatures rarely drop below 7°C).
Rainfall is scarce (average 70 mm per year), falling in brief showers mainly in winter. Vegetation is sparse.
Population
Qatar's population was 2,832,067 inhabitants in 2019, of which around 15% were Qatari. The country has a large foreign workforce, especially from Arab and Asian countries (India, Pakistan, Bangladesh, Nepal, Sri Lanka, and the Philippines). More than 96% of the population is living in an urban area.
Arabic is the official language of Qatar even if English is commonly used for business or by the expatriate community. Official documents such as visa must be completed in Arabic language.
Islam is the predominant religion in Qatar but other religions are also practiced by immigrant communities. According to 2010 data collected by the Pew Forum, 67.7% are Muslim, 13.8% are Hindu, 13.8% are Christian, 3.1% are Buddhist, 0.7% follow other religions and 0.9% are unaffiliated to any religion.