Milipol Qatar is held under the authority of H.E. Khalid bin Khalifa bin Abdulaziz Al Thani, Prime Minister and Minister of Interior, State of Qatar. The Milipol Qatar Committee is in charge of the event organisation.

Milipol Qatar Commitee members
The Milipol Qatar Committee is composed of five senior officials from the Ministry of Interior of Qatar. They manage the organisation of the event in Doha in close relationship with the Milipol team based in Paris.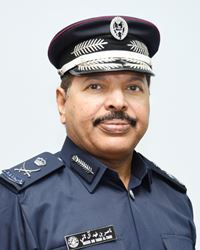 Major General Nasser Bin Fahad Al Thani
Milipol Qatar Committee Chairman
Ministry of Interior, State of Qatar
Brigadier Saud Rashid Al-Shafi
Assistant Director General - Directorate of Logistics
Ministry of Interior, State of Qatar
Brigadier Abdulla Khalifa Al-Muftah
Director of Public Relations Department
Ministry of Interior, State of Qatar
Lieutenant Colonel Nasser Saad Al-Otibi
Assistant Director of Financial Affairs Department
Ministry of Interior, State of Qatar
Captain Khalid Saadon Al-Kuwari
Head of Safety Systems section - Civil Defence
Ministry of Interior, State of Qatar
Offices
Milipol Qatar office


Ministry of Interior Administrative
Annex Building - West Bay
P.O. Box 22284, Doha, Qatar
Phone: +974 4441 1818 – 4484 9520
Fax: +974 4441 6262
Ministry of Interior, State of Qatar
Milipol Qatar office
Project Director & General Coordinator
Email: [email protected].qa or [email protected]
Comexposium Security Office


70 avenue du Général de Gaulle 92058 Paris La Défense Cedex France
Phone: +33 (0)1 76 77 11 11
Email: [email protected] or [email protected]