Qatar is an Emirate in the Middle East which gained its independence on the 3rd September 1971. His Highness Sheikh Tamim bin Hamad Al Thani is the 8th Amir of Qatar.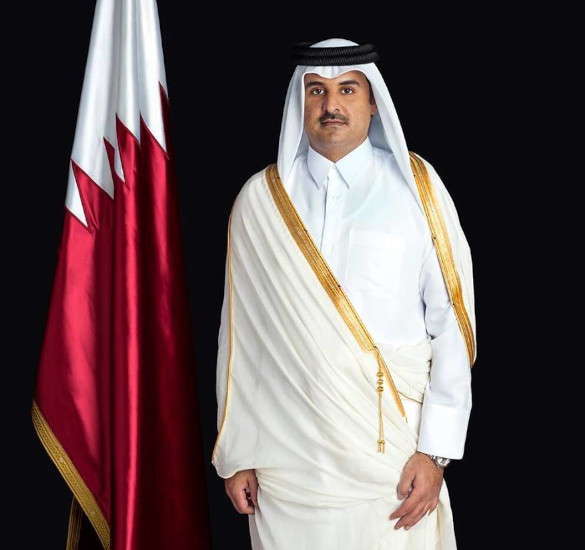 Qatar
Official name: State of Qatar
Political system: Constitutional Monarchy (Emirate)
Amir: Sheikh Tamim bin Hamad Al Thani
Prime Minister and Minister of Interior: Khalid bin Khalifa bin Abdulaziz Al Thani
Capital: Doha (or Al Dawha)
Population: 2,832,067 inhabitants (2019) – Qatari
Official language: Arabic
Politics of Qatar
Qatar is a constitutional hereditary monarchy, with the Amir of Qatar as head of State and head of Government. The Al Thani family has ruled the country since the declaration of independence in 1971. Sharia law is the main source of Qatari legislation, and civil law is also in practice.
Under the referendum of April 2003, Qatari voters approved a new constitution that transformed the country into a democracy. The constitution lays the foundations for the principle of an independent justice and established the freedom of worship, the Consultative Assembly and parliamentary elections (even though political parties are not allowed in Qatar).
The Amir, Sheikh Tamim bin Hamad Al-Thani, rules the country with the assistance of the Council of Ministers and an Advisory Council. He holds both legislative and executive powers, and appoints the Prime Minister as well as the other Ministers. The Council of Ministers is responsible for proposing draft laws and decrees, and for supervising the implementation of these laws and decrees.
The Amir's Mother, Her Highness Sheikha Mozah, contributes tremendously to the country's development and influence. The website dedicated to her achievements offers extensive coverage of Sheikha Mozah's projects in education, health, family and culture both on the national and international levels.
International
Qatar is a small country surrounded by larger neighbours, and it has always try to protect its influence and sovereignty by establishing strategic alliances.
Today Qatar has bilateral relationships with a variety of foreign powers and is member of several organisations including
The United Nations (UN) and its subsidiary global organisations
The Asian Group of the United Nations Human Right Council (UNHRC)
The Organisation of Petroleum Exporting Countries (OPEC)
The Organisation of Arab Oil Exporting Countries (OAPEC)
The Arab League
The World Trade Organisation (WTO)
The International Monetary Fund (IMF)
The World Bank
The World Intellectual Property Organisation (WIPO)
The Organisation of Islamic Conference (OIC)
The Gulf Cooperation Council (GCC) with Bahrain, Kuwait, Oman, Saudi Arabia, and the UAE
The UNESCO World Heritage Committee
The World Customs Organization (WTO)
Interpol (International Criminal Police Organisation)
The World Health Organization (WHO)
The United Nations Conference on Trade and Development (UNCTAD)


In June 2017, Saudi Arabia, the UAE, Bahrain, Egypt and Yemen broke diplomatic ties with Qatar. Qatar is identified as a middle power by experts. Geography of Qatar Geography of Qatar Economy of Qatar