Qatar has one of the strongest growing economies and the highest income per capita in the world.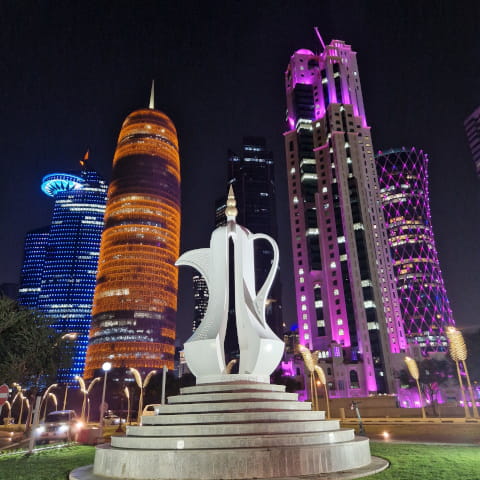 Qatar
Official name: State of Qatar Capital: Doha (or Al Dawha)
Main cities: Al Wakrah, Al Khawr, Al-Rayyan, Umm Salal
Currency: Qatari Riyal (QR)
GDP (2019, IMF): $191.849 billion
Growth rate (2019, World Bank): +1,9%
Unemployment rate (2017): 0,6%
Inflation rate (2019, World Bank): 3.8%
Population (2019): 2,832,067 inhabitants (2019 population growth≈ 1.8%)
Human Development Index (2018): 0,848 – 41st
Main clients (2017): Japan, South Korea, India, China and Singapore
Main suppliers (2016): USA, Germany, China, Japan, UK, Italy, France

Economy of Qatar
Qatar's economy was traditionally based on fishing and pearling industries. In the 1940s, the discovery of oil dramatically transformed the state's economy and the country has grown richer. All Qatari citizens today benefit from a high standard of living, with a record average wage, lowest tax rates and an unemployment rate close to 0% (close to 0.6% in 2017).
In the 2010s, Qatar had the strongest economic growth rate in the Gulf region driven by the increase of the oil prices and the implementation of a gas programme.
As of 2018, Qatar has the highest GDP (PPP) per capita in the world according to the World Bank).
Qatar's main sources of revenue come from the exports of oil and natural gas (70% of total government revenue). In 2018 Qatar held 1.5% of worldwide oil reserves and 13% of worldwide gas fields (meaning that Qatar has the world's third largest gas reserves). Qatar is the 5th producer of gas and the leading exporter of Liquefied Natural Gas (LNG) in the world.
To make profitable use of the country's huge financial surpluses, the Qatar Investment Authority (QIA) was founded by the State of Qatar in 2005 to manage investments abroad. The country is also using these financial surpluses to launch large industrial projects (heavy industry).


Gas
Qatar possesses 13% of proven reserves of gas. It is the third-largest in the world after Russia 27% and Iran 15%. The Qatari Peninsula shares the world's largest gas field (known as the « North Dome ») with Iran and the country has become the world's leading exporter of LNG in just a few years, far ahead of Russia, Canada and Norway. Qatar boosted its overall LNG production capacity from 31 million tons a year to 77.5 million tons annually in 2017 to become the first producer of LNG in the world (32% of the total worldwide production).
Qatar also aims to become the world's biggest producer of « Gas-To-Liquids » (technology for converting carbon compounds such as coal and natural gas into petroleum products).
Oil
Oil is one of the main resources for Qatar. It was first discovered at Dukhân in 1939. Oil production and incomes skyrocketed from 1973. In 2018 Qatar had 1.5% of worldwide proven oil reserves (accounting for 25.2 billion barrels or 2.6 billion tons).


Tourism
Qatar is currently working at diversifying its economy. Tourism development is an integral part of this plan:
Pearl-Qatar layout, a man-made island dedicated to the tourism industry
The new international airport, the Hamad port and several transportation network expansion plans
Strengthening Doha's attractiveness to compete with Dubai (opening of the metro network in 2019 with 3 lines, 37 stations and 76 kilometres of tracks)
Sport facilities expansion for the 2022 FIFA World Cup (including 12 stadiums).