Find on this page information you may need during your stay on day-to-day life in Qatar.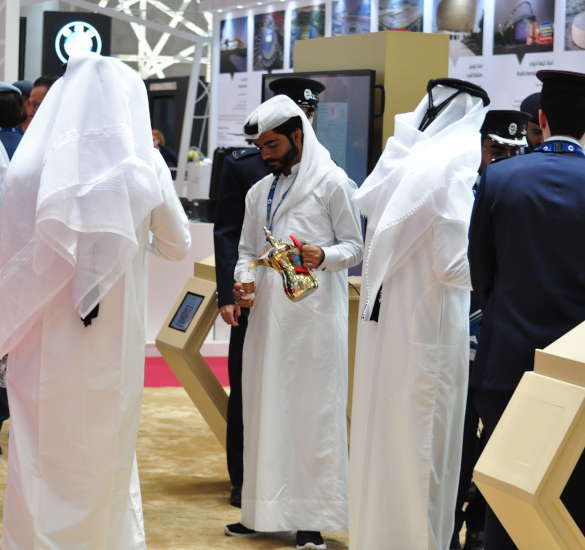 Do's and Dont's in Qatar
Qatar is a Muslim country. A few rules must be followed:
Use greetings / formalities, it's impolite to start discussing with people without using greetings first.
Dress modestly, it's better to cover shoulders, arms, knees and avoid transparent clothes.
Use your right hand to eat and drink.
Watch out for separate counters and sections for women in banks and utilities.
Wait for shaking hands with people. Handshakes are often refused to members of the opposite sex.
Do not ask an Arab lady for information or directions if you are a man.
Do not refuse the welcome coffee, since it is a hospitality symbol.
Do not take photographs without permission of people or sensitive sites.
Do not stare at people closely, it is considered impolite.
Do not sit with the soles of your shoes/feet facing towards your Qatari hosts, it is an insult.
Practical information about Qatar


Accidents and medical emergencies
Sole number for fire, police and ambulance: Dial 999.


Behaviour
Here is some advice when living in Qatar:
Drink plenty of water to avoid dehydration.
Use a high-factor sunblock on you exposed skin and wear a hat/cap.
Take along a light jacket with you since air-conditioning is used everywhere.
Bargain with shopkeepers in the souqs.
Be careful with alcohol. Drunkenness & drunk-driving are strictly prohibited (as well as drug consumption).


Business hours
The work week is from Sunday to Thursday (Fridays and Saturdays are days off).
Government offices are open from 7.00am to 2.00pm.
Shop opening hours are 8.30am – 12.30pm and 4.00pm – 9.00pm.


Currency
1QR = 0.23€ (January 2018) 1QR = USD 0.27 (January 2018)
Driving in Qatar
Upon arrival in Qatar, visitors can drive for one week with their valid national driving license. After approval by the Traffic Department within 7 days of their arrival in the country, drivers can use an international driving license for up to six months. After this 7-day period, they must apply for either a temporary (for rental cars only) or permanent Qatari license.
Electricity
Electrical current is 240/220 volts AC; 50Hz. Do not forget to bring some adaptors.
Flight & Accommodation
Travelers land at the Hamad International Airport. More information about preferential rates on hotels and flights will be available online in June.


Health
No compulsory vaccine for visiting Qatar, but hepatitis A and B are recommended, and be sure about diphtheria, tetanus and poliomyelitis vaccines. To avoid the risk of dehydration, it is necessary to drink enough water every day (Tap water is generally safe to drink).
Language
Arabic is the official language, but English is also widely spoken. Doha means « the big tree » in Arabic.
Most Qatari feel honored to see their guests speaking a few words in Arabic, so learn the basics:
Hello / Welcome = marhaba or ya hala
Peace be upon you = assalam alaykum
And upon you be peace = wa'alaykum salam
Good morning / Good afternoon = sabah al khair / massa al khair
Goodbye, Go in peace = ma'a salaamah
How are you? = kaif haalak?
Please = min fadlak
Thank you = shukran
God willing = insh'Allah
Yes / No = na'am or aiwa / la
Congratulations = mabrook
On your right / On your left = ala yameenak / ala shamalak
0 / 1 / 2 / 3 / 4 / 5 / 6 / 7 / 8 / 9 / 10 / 100 / 1,000 = sifr / wahad / ithnain / thalatha / arba'a / khamsa / sitta / saba'a / thamanya / tissa'a / a'ashara / mi'a / elf
Sunday / Monday / Tuesday / Wednesday / Thursday / Friday / Saturday= yum al ahad / yum al ithnain / yum al thalatha / yum al arba'a / yum al khamees / yum al jum'a / yum al sabt


Media
Phone
The international dialing code for Qatar is +974.
To call abroad, dial 00 or + and then the phone number.
Hamad International Airport: +974 4010 6666
Qatar Tourism Call Centre: +974 4444 4106
Public holidays
24 May : Eid Al Fitr (may vary with lunar calendar)
31 July : Eid Al-Adha (may vary with lunar calendar)
18 December: Qatar National Day


Taxis
"Karwa" Taxis are operated by Mowasalat and are well-known for their turquoise green color. They are all modern, air-conditioned and their drivers wear a uniform. Expect delays during rush hour.
For booking a taxi, please dial (+974) 4458 8888 (7 days a week – 24h/24 – Booking fee: 4QR).
More information: « Travel to Milipol Qatar ».
Time
Local time is GMT +3 hours. Qatar does not use daylight saving time.


Tourism
Between tradition and modernity, Qatar is a pleasant tourist destination with plenty of sites to visit and a lot of cultural and natural treasures to discover.
More information: « Tourism in Qatar ».


Visa request
Residents of 33 approved countries (including the UK & Ireland, most of continental Europe, the USA, Canada, Australia & New Zealand) and other GCC countries can obtain their tourist visa (valid one month), which is issued upon arrival in Qatar. Travelers from other countries must apply for a visa at a Qatar embassy before they arrive in the country.


Weather
Qatar summer (from May to October) is hot and humid on the coasts. Winter is mild.
Seasonal temperature averages: spring (15 – 25°C), summer (25 – 50°C), fall (15 – 35°C) and winter (7 – 25°C).